Learning something new is a passion for me. You might call me a jack of all trades. And of course, that means finding a good book on it.
The Book
I found this book and vol 2 a while back, and had saved them as an idea for Little Man when he got older. But he hasn't shown interest in following someone else's instructions, he just wants to build his own thing. But Hubby and I…. we are, perhaps, a bit too biblio-centric and we want direction from an "expert". So, The Professor got this book for Christmas this year.
We are impressed! Isogawa uses just pictures, but gives great direction in how to use motors, gears, and all these moving LEGO® parts. He did a great job with the colors of parts so that you can tell what is what. He starts with simple and every design builds on previous designs. I did skip ahead and build a small thing that uses a worm gear. Don't know what a worm gear is?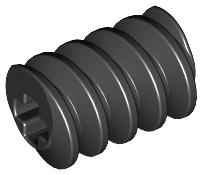 The Parts
In the back of the book, Isogawa gives a parts list, but there are no part numbers. So, today, I started working on finding part numbers for all the parts. Yes, I write in my books!
Isogawa does have a parts list with links to bricklink.com which helped quite a bit in figuring out what the parts are. And, like the nerd I am, I started a wanted list at bricklink.com. I promise to share the wanted list when its complete!
More Books
Some people need more cow bell, but I need… um… want more books. I've since found Isogawa has a Simple Machines book and a slew of other books! His site is fun to browse around, he has all kinds of ideas, builds and instructions. But seriously, if you want to learn how to use the moving parts of LEGO®, this book is a great place it start.